Muffathalle München, Oktober 2018
"Euro Border Crosser"
Skulptur in Zusammenarbeit mit Chico Mc Murtrie
The Euro Border Crosser is the result of a cross-departmental project at the University of Applied Arts
Vienna dealing with the development of robotic sculptures (Border Crossers) in a course the artist held.

Artistic team:
Chico MacMurtrie with Sara Bissen, Ferdinand Doblhammer, Moritz Durauer, Maximilian Fink, Georg Holzmann, Gea Kalkhof, Maximilian Köb, Johannes Krumböck, Aneta Luberda, Jakob Steixner, Lola Verger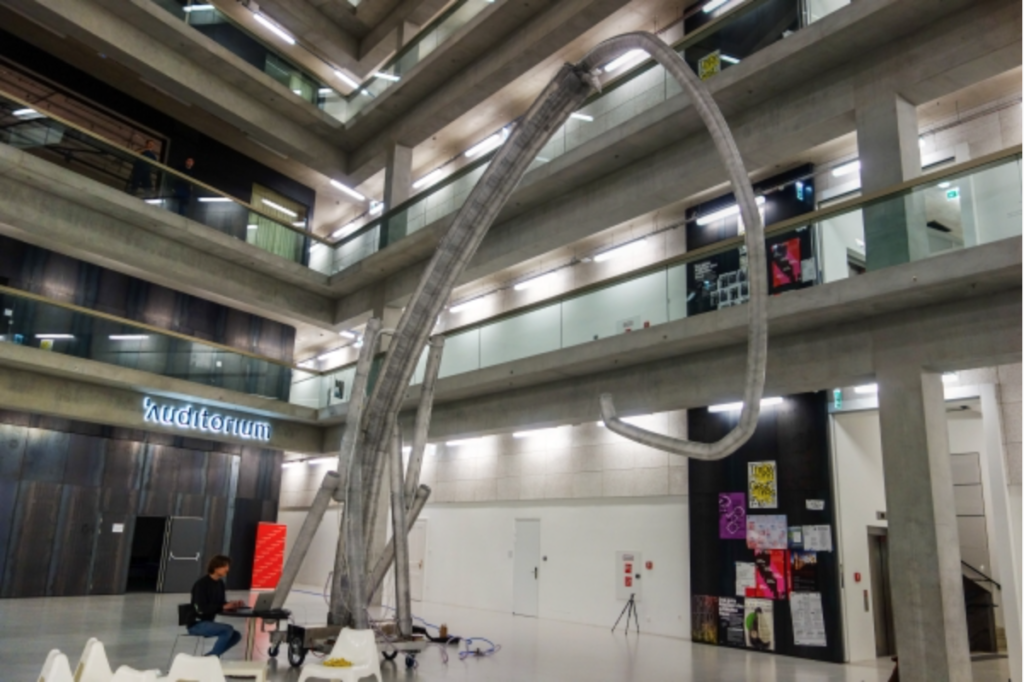 Chico MacMurtrie Amorphic Robot Works (NYC)
"Border Crossers" is a large-scale performance and participatory
procession involving a series of lightweight robotic sculptures
that poetically explore the notion of borders.
The "Border Crossers" performance series stages a peaceful,
symbolic, "crossing" of borders around the world using the
combined power of art, technology and community.
When the Border Crossers reach their maximum height (approximately 10 meters), a coiled fabric tendril gradually unfurls into
an arch-like shoot that "grows" over the border and touches
down on the other side. The project treats the border as a physical condition that can be temporarily transcended by technological proxies. It offers a critique of militarized geopolitical borders, and a metaphorical suspension of those borders.
The New York based artist Chico MacMurtrie was resident in the Angewandte Residency Program
and visiting professor at the Department Art and Communication Practices (kkp) in 2018. The
lecture series accompanies a cross-departmental project dealing with the development of robotic sculptures (Border Crossers).